About our project
14/11/06 - Day 9 - La vallée de la mort.. (Death Valley) - 3599 miles
We finally got out of Las Vegas to sleep along the road.
A sweet morning was waiting for us, hot and sunny with the wind gone.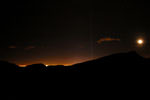 We headed to Death Valley wich is the lowest place in the America.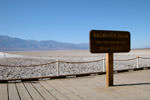 The temperature in july can easily reach 125 F and the average for the winter is about 95 F. The valley at its lower point is 282 feet under sea level.. so this is the lowest place in America.
We took some pictures in the sand dunes then we had a great supper! We've stayed on the shoulder inside the valley for the night.. We even saw a small desert fox during our supper.


Well.. we had some mechanic problems with our car... looks like vacuum is not working great we don't really know! We'll see tomorrow morning what the problem is exactly. The bus run great, but for only few minutes then it turn off.

---
Here is the map of the day!