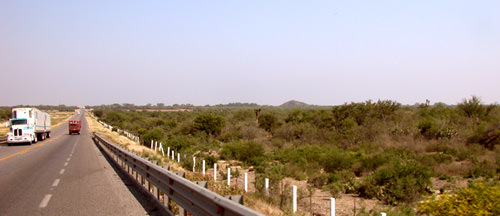 Yesterday night, we had some problems with the van. Like the last time in California, the Air flow meter. When we give gas to the engine, it just make some peaks and is near stopping. So in the morning, we had the chance to take a good shower in the Truck Stop where we've sleep.

After we've study the problem, we took back the road, the engine when it's cold, run in a normal way. So heading up through Matamoros! Always desertic, not totaly but not far, a Texan landscape. The engine started to do the same thing 30 minutes later. We finally went back about 5 kilometers in a village.

After asking about 4 persons to find a garage, we found a mechanician. 5 hours later and the rest of our brownies cake we've made yesterday (Without any oven, just with our logic and some fire), after we've wait and study the problem, we took back the road until Matamoros!
On the road, we saw lot of cars with a paper on the windshield and towing another car, sometimes trucks also. Something strange, we can't tell you more about that!

Tonight, we'll sleep about 15 kilometers from the city of Matamoros.
---
Here is the map of the day!